Sykes Holiday Cottage Insurance
Bollington is proud to be the recommended insurance broker administering the holiday home scheme on behalf of leading holiday let company Sykes Holiday Cottages.
Bollington provides specialist holiday home insurance from a range of providers to ensure that – whatever your holiday home, and wherever it is in the UK – your property will be suitably covered.
Why choose Bollington for your Sykes holiday home insurance?
We understand that your investment in your property should be protected, and offer a full suite of insurance and risk management services to make sure that you don't lose out on valuable cover for your holiday home.
We've been insuring holiday homes for over 45 years and our holiday home insurance is designed especially for holiday lets. We have the knowledge you need to make sure that your property is adequately insured – rather than leaving anything to chance, risking being underinsured, or not being insured at all for the risks that you face.
Because of our relationships with leading insurers, we can cover all types of property, whether it's a traditional holiday cottage, an apartment, a wooden lodge, a caravan or a chalet, to name but a few.
We'll talk you through exactly what you need cover for to find the best insurer to meet your needs, including access to an exclusive scheme with leading insurer Hiscox.
Dependent on your insurer, we can cover:
Accidental damage to buildings and/or contents, as well as outbuildings, terraces, swimming pools and hot tubs
Full cover if you rent your property out, which also includes theft even whilst unoccupied
Loss of rent
Trace and access cover
Cover for listed properties in the UK
Commercial Guest extension including Employers' Liability cover, loss of hiring fees and alternative accommodation
Other liabilities– such as injury to tenants while using your holiday home
Talk to one of the expert holiday home insurance team members and we'll guide you through your options to get great value cover – whether you have a single property or a portfolio.
What does holiday home insurance cover you for?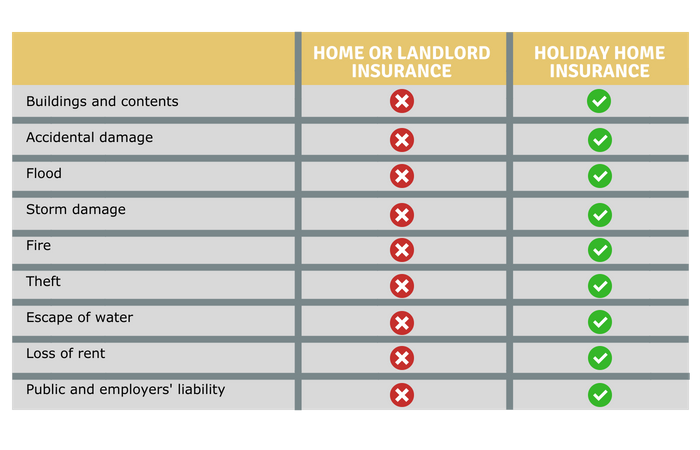 Benefit from award-winning service
Bollington is highly rated by our customers. We are both a Feefo Gold Trusted Service partner and rated as offering 'Gold' standard service by Investor in Customers; independent accolades that testify we go the extra mile to keep our customers happy.
Just as Sykes offer a personal and individual service, tailored to the specific needs of holiday homeowners, Bollington equally make sure that your insurance arrangements provide for your unique requirements. There is no 'one size fits all' strategy with Bollington – we are here to make sure that, in the worst case scenario, you are not left without the cover you really need.
You'll also benefit from access to our in-house claims team, working in your best interests to resolve any claims quickly and effectively.
Get a quote for your Sykes Holiday Home Insurance
Offering a combination of great value and policy coverage, we cover more than 900 Sykes property owners, and over 90% remain with Bollington each year. Find out why.
If you would like a quotation on your Holiday Home Insurance, please call us on 01625 855746 for a prompt and friendly service, without obligation to purchase, or request expert advice using the form at the top-right of this page.
View our additional private client services
What our customers are saying...