Health and Safety in the motor trade is of paramount importance, and could have a major impact on whether you are accepted for insurance or not.  According to the Health & Safety Executive, there have been over 7,000 injuries and 33 deaths in the motor vehicle repair industry within the last five years.
You Are Entitled To A Safe Environment
As an employer, you have a responsibility in law to provide a safe working environment for your employees.  If your business does not have the correct procedures in place and occurrences of accident, injury, illness or disease happen at your place of work, you could be liable to prosecution under the Health and Safety at Work etc. Act, 1974. In extreme situations, directors and officers of the company may be held personally liable.
Put simply, not only will you find getting insurance difficult (if not impossible), you could even put yourself out of business altogether.
Whatever you do as a motor trader, you need to consider the risks and put procedures in place to ensure that they are minimised.  For example, you might have a procedural guide that explains, step by step, how to perform a welding task, or how to perform paint spraying.  You need to employ a competent person for the task at hand, and have them sign-off the procedures and follow them each and every time.
Issue To Consider In Motor Trade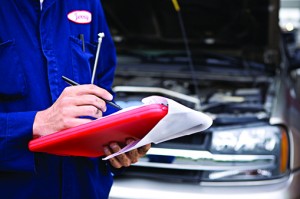 There are a wide range of Health and Safety and environmental issues to consider in the motor trade – from slips, trips and falls, to adequate support for vehicles you are working on, through to ventilation of working areas, proper maintenance of your premises and general tidiness of the areas you work in.  There is the potential for fire or explosion when working with flammable substances, consideration for the correct disposal of engine oils and other environmental factors… the list goes on, with some risks specific to the industry that you work in (e.g. vehicle repairs), and others prevalent no matter what part of the motor trade you work in.
A good insurance broker can offer great assistance with Health and Safety and environmental issues, pinpointing all the concerns and risks that you will need to assess and helping you to put best practices in place to deal with the many issues that you might otherwise experience.
Bollington Motortrade can exclusively offer you free online assessments, so you can be certain that you minimise risks and maximise your chances of getting insurance cover for your motor trade business at the best rate.  If you need help completing the relevant Health & Safety documents and risk assessments for your business, Bollington will be on hand for you.  Working with Bollington, a well-managed risk should always be reflected in your future spend on your insurance.
Contact Bollington Motortrade on 01625 348068 for more information on managing your business safely to help keep your motor trade insurance costs in check.