Recruiting skilled motor traders is becoming increasingly more difficult for the industry. What can be done to secure a strong future workforce?
The motor trade industry is suffering from a known skills shortage. Recent data revealed nearly 50 per cent of motor trade employers indicated that they are unable to recruit workers with the qualifications that they need.
In response, many organisations are being forced to hire less experienced employees to fill open positions.
Are apprentices the answer?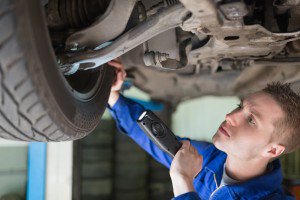 To address the shortage in staff in the industry, motor trade businesses are turning to apprentices.
AutoRaise was initially set up in 2012 to build a new apprenticeship standard. Their standard was signed off by Government in 2015, and the initial organisation has evolved into a charity with the purpose of promoting the motor trade as a "sustainable, attractive and rewarding place to work."
The aims of the charity are laudable as apprentices bridge the skills gap, learning on the job in an industry where they can enjoy their work and build a future for themselves. But is the industry taking on enough apprentices to sustain itself?
According to the SMMT, 347,000 people were employed in the vehicle servicing and repair sector in 2017. Yet at the time of writing , there are only around 500 apprentice positions advertised nationally on a well-known recruitment website – a tiny fraction of the number of people likely to be still employed in this sector.
While apprentices may be part of the answer – and the structured training on offer from approved programmes, as well as financial support from the government, can make employing apprentices viable – there is still an immediate need to develop more vehicle technicians, body repairers and associated tradespeople.
Why aren't there more women in the motor trade?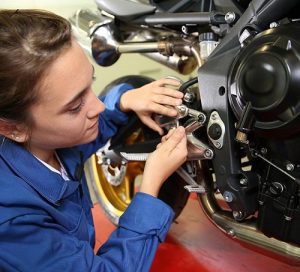 According to the European Commission, only 17% of the UK motor trade sector consists of women. Yet half the drivers on our roads are female, so why are they under-represented when it comes to servicing and repairing vehicles?
While women are an untapped resource when it comes to staffing motor trade businesses, there are still the old stereotypes of the typical 'mechanic' or 'trader'. Can anything be done to address this?
There could be a more active recruitment programme to encourage women into vehicle service and repair roles. More flexibility in working hours and opportunities to progress in the industry could help to bridge the skills gap in the motor trade. However, it will take time for these things to happen.
Keeping your options open when it comes to recruitment is the key to bringing in the next generation of talent that is needed for the industry. It could also help you right now to bring in employees to help you run your business.
What are the risks to businesses in this sector?

In the service and repair industry, there's arguably more work for you to carry out now than ever before. Our recent focus on the boom in MOTs due this year highlights that mechanics, body shops and related trades are in high demand.
When the economic downturn arrived in 2008, many skilled motor traders suddenly found themselves looking for work. However, recent years have seen a decline in the number of skilled workers available – partly through such workers finding alternative employment, partly through a lack of numbers entering the industry for the first time, and partly through the 'Brexit effect' of skilled European workers heading home.
With an increasing number of jobs, there is added pressure on businesses to work more quickly, while maintaining high standards.
Where specialist knowledge of vehicles is required, employing less skilled workers means you will need to train people on the job. This can be difficult while you're also working hard to keep up with your existing workload. This is where mistakes can happen.
In fact, employees are twice as likely to be involved in an accident during their first six months in a new role as during the rest of their working life, according to the HSE.
Then, of course, it's not just the fact that your standards of work might slip – so, too, your reputation as a business could be damaged.
However, everyone needs to start somewhere. So how do you make sure your employees get a good start to their career, stay compliant, and learn in a safe environment?
Get unskilled employees off to the right start
When it comes to apprenticeships, you will be working to a structured programme to develop your staff.
If you are casting your net wider and taking on those with limited experience in the trade, to make sure your staff get a good start to their career, you should:
Review their capabilities—Before the new worker arrives, review their current qualifications and past work experiences. This will help you determine the areas that they may need extra help with.
Create a timeline—A new worker can't just hit the ground running. They will need a suitable amount of time to learn and adjust to their new role. Be sure to establish a reasonable induction timeline.
Manage driving risks—For employees who will be driving vehicles at work, you need an effective driver training programme. This includes vetting new drivers, verifying licences, issuing a driver handbook and leading routine driver training activities where required.
Get specialist risk management—To reduce the chances of accidents happening in the workplace, speak to experts in managing risks in the workplace. Bollington has a specialist risk management team who can be consulted on a variety of issues. There is no obligation to speak to them, but they can highlight workplace issues and help you address them before accidents happen.
Make sure you have the right insurance cover
When taking on younger employees, make sure your motor trade insurance covers them. In addition to having employers' liability insurance in place, you will also need to consider road risks insurance if an apprentice is taking vehicles on the road, for example.
If in any doubt as to whether your current policy covers apprentices or trainees, give Bollington a call on 01625 854300.