Bollington is proud to be supporting the Dave Bland Engineering Open Day, taking part next Friday 8th July at the Dave Bland site in Stamford Bridge, York.
Dave Bland Engineering has been trading for 30 years, manufacturing their own vehicles in-house and acting as a distributor, providing pre-sales and after sales advice to their clients. They are now one of the country's leading suppliers of recovery and transport vehicles, with customers across the UK, Ireland and beyond.
The Open Day will showcase the heavy recovery and transport equipment from Canadian towing and equipment manufacturer NRC in action, being tested to the limits of its capability - and beyond! There will also be a seminar at the event lead by NRC, whose products are distributed by Dave Bland in the UK.
Bollington has a long-standing association with the recovery industry, providing a range of independent recovery operators and larger organisations with the insurance and risk management advice they need to cover all elements of their business. We look forward to meeting up with some of our friends in the recovery industry - and maybe making new ones, too!
Click the flyer below for full information on the event.  If you would like to attend, you can register here.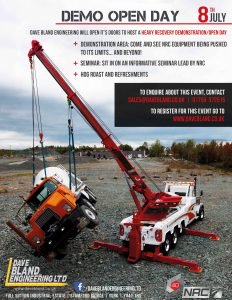 Find out more about Bollington's recovery operator insurance offering, which can also include comprehensive risk management - view the services we offer.