For the third year running, Bollington achieves highest possible 'Gold' rating based on customer and staff feedback
Bollington Insurance is proud to announce that we have picked up a 'Gold' rating from Investor in Customers following our 2019 survey – the third year in a row that we have achieved the highest possible status in this independent survey.
All Bollington clients were invited to take part in the survey which measures their satisfaction with the service offered across a broad range of areas, from communication through to understanding their needs, and from product choice to engendering loyalty.
Consistently great service
Across the board, Bollington's clients reported increased satisfaction with the service they received, with a huge 94% of those surveyed saying the service they received was consistently as good or better than when they were last surveyed in 2018 – a truly exceptional achievement.
Staff were also invited to provide their views, to see how closely they align with those of Bollington's clients. With ongoing improvements to the company's working culture and environment, Bollington's focus on client satisfaction came through clearly in the way staff continually look to offer a high-quality service that meets client needs.
Following a 360-degree view of all the feedback received – including some outstanding testimonials from a broad range of people, and businesses of all types and sizes – Investor in Customers had no hesitation in awarding Bollington the coveted 'Gold' standard award.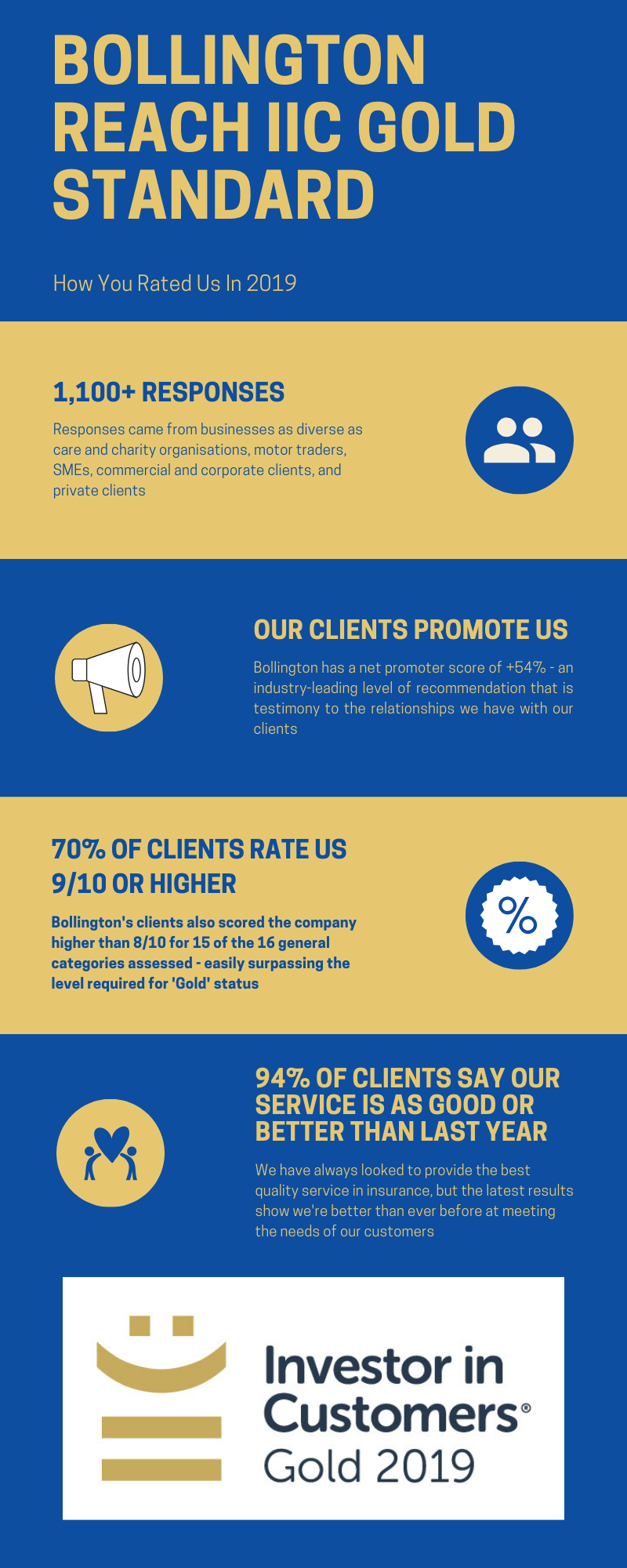 Bollington proud to have partnerships with clients recognised
Chris Patterson, Group Managing Director of Bollington Insurance, commented: "Bollington has never been in a better position to provide great service to our clients.
"With the widest range of commercial and personal lines insurance products we have ever had, talented staff at all levels of the business, and a company culture placing clients at the centre of everything we do, we have developed tremendous partnerships with a huge range of people and businesses across the UK.
"We are therefore very proud to have received our Investor in Customers 'Gold' rating for the third year in a row. This is an exceptional result. We would like to thank our loyal customers for taking the time to acknowledge us and provide valuable feedback to help us continue to serve them well for years to come."
Danny Pickering, Director of Smile Customer Experience Ltd who facilitated the Investor in Customers assessment, commented:
"Everyone at Bollington, including the Directors, Senior Management Team and employees, have been engaged in the Investor in Customers assessment for a number of years now. Each year, they have demonstrated a willingness to act on the insights and feedback obtained from their customers and employees.
"It is no surprise therefore that response rates to the assessment and customer scores are increasing year-on-year. This is another fantastic achievement by Bollington who continue to be fully committed to delivering an outstanding customer experience."