Risk management is a process that all care organisations and charities should go through. A useful way to look at risks initially is through creating a risk map.
What is meant by risk mapping?
When you have identified risks, listed them (often called a risk register) and then scored and ranked each risk on the likelihood of it happening – and the severity if it did happen – you can then set them out (i.e. map them). Displaying results in a visual format, a risk map, makes the risks easier to communicate.
An example is given below: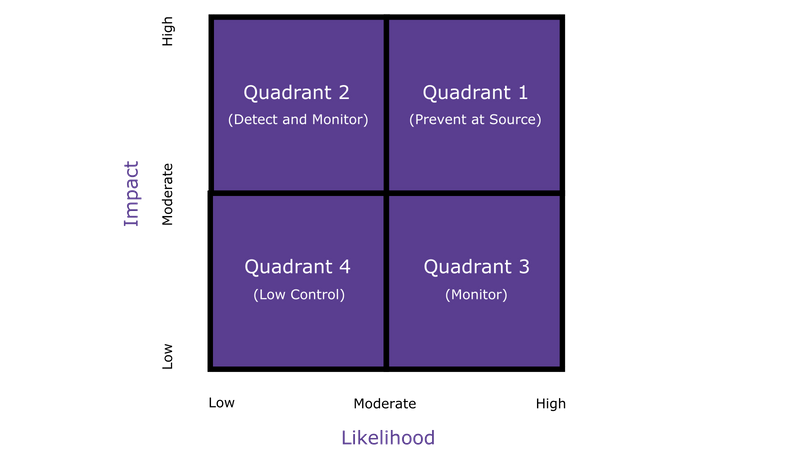 So what is risk management then?
After risk mapping (often called risk assessment), the organisation can decide on the controls they can adopt to minimise or eliminate risk.
This is an ongoing process for any organisation and should be considered from the most senior to the most junior person. Legislation dictates some risks have to be managed by arranging insurance such as Employer's Liability and Motor insurance.
How is this helpful?
The process encourages risk awareness and enables a charity to weigh up calculated risks. You will be better able to prioritise resources. In addition, it is an essential legal obligation of trustees as part of good governance.
Keeping records of your risk assessment process and management decisions is extremely valuable to produce should an allegation of negligence be made against you.
Unfortunately, the number of insurance claims against charities are increasing. Having robust evidence helps insurers to defend charities and handle claims more speedily.
Trustees also need to be aware that the decisions they make can expose the charity to management risks. You can also then decide what risks you will take on yourself and what insurance needs you have.
In procuring services, you are likely to find that there are contractual obligations to have minimum levels of liability insurance. Ensure you check contracts before arranging cover.
Need help managing your risks?
Managing risks need not be onerous.  If you think about risks seriously and account for them as part of your work - training employees or volunteers effectively - then it can become part of your day-to-day routine.
Official guidance takes note of this. The Charity Commission, for example, recognises that for most organisations risk mapping is an evolving process. A sense of proportionality is needed so that the primary focus of the organisation is still achieved.
Seasoned care and charity organisations will know many of the risks they are likely to face, how serious they could be, and the likelihood of them happening. This helps to map out such issues so you can plan to manage your risks accordingly.
However, even the most experienced care or charity trustees can encounter unexpected issues. Those starting a new venture often need extra guidance.
Sometimes, it needs a different pair of eyes to see problems that those closest to them can overlook - or additional, more focused expertise to help you plan a risk management strategy effectively.
Bollington is pleased to provide a full range of risk management services that complement our insurance offering for the care and charity sector. We are happy to talk to you, without obligation, about how we can help you to mitigate your risks, or to support you in the wake of an incident happening.
To talk to us about risk management, call 0161 929 1851, or find out more about the risk management services we offer.