Public trust and confidence in charities fell to the lowest recorded level ever (5.7 out of 10) last year, according to a report from the Charity Commission.
The report revealed the five central factors that inspire the public's trust:
The organisation makes a positive difference towards its cause.
The organisation ensures that a reasonable portion of the donations make it to the end cause.
The organisation ensures that it is well-managed.
The organisation ensures that its fundraisers are honest and ethical.
The organisation makes independent decisions to further its cause.
Based upon those five tenets, the primary causes of the decline were growing distrust, critical media coverage and a lack of knowledge about how charities spent the donations that they received.
All is not lost. Trust is being restored.
However, within the past year, charities have steadily regained public trust, as the score has risen to 6.3 out of 10, partially due to the implementation of the Charities Act 2016. The act strengthened the authority of the Charity Commission and required charities to be more transparent in their fundraising, donations and investments.
To help bolster public trust for your organisation, consider the following tips:
Provide a detailed explanation of how donations will be used on your organisation's website and on your collection forms.
Keep concise and well-organised records about how much your organisation has raised and what those funds went towards.
Use social media to show the positive effects that your campaign has had and create a dialogue with the community about how they can help.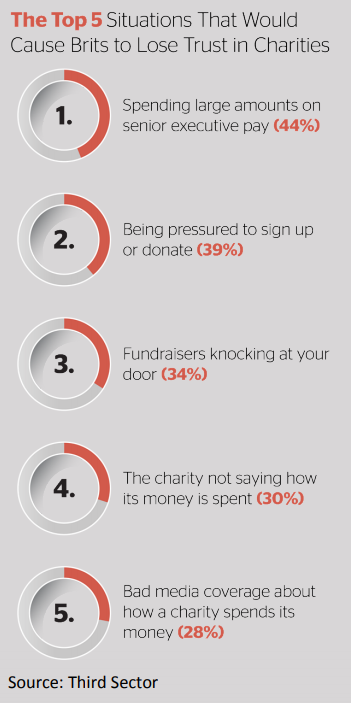 Charities often find themselves competing to be heard and funded. This is why nurturing good relations with the public and building a strong image is important for organisations to succeed. Trust is fundamental to this.
If you need advice on insurance arrangements for your charity from a broker you can trust, please get in touch with the specialist care and charity insurance team at Bollington on 01625 348029.